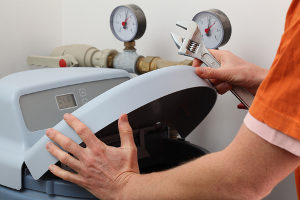 For many homes, hard water is a major problem, and a water softener is the only solution. Water softeners are a type of water conditioning system that remove the minerals in your home's water that cause it to be "hard". Those chemicals include magnesium and calcium, among others. Hard water may cause any of problems for you and your family, even if they're not noticeable at first.
At Sahuarita Plumbing, our professional Corona de Tucson plumbers can install water softeners that will help ensure that your home's water is always in great condition. Water softeners can provide your home and its water with a number of great benefits, and our professionals will be able to ensure that yours is always totally functional and reliable.
If you're unsure of whether or not a water softener would benefit your home, contact our professional plumbers, or read below:
Negative Effects of Hard Water
Hard water can cause a number of problems throughout you home:
Hard water can cause pipe clogs
It can prevent soap from properly dissolving
It can leave behind water spots
It can create scale and build-up in your pipes, ultimately reducing the energy efficiency of appliances like water heaters.
Skin that's washed in hard water can feel dry or itchy, and washing your hair in hard water can cause it to appear dull or dry
If you're experiencing any of these problems, our Corona de Tucson plumbers can help you determine whether or not hard water is the problem. If it is, we can help you select and install a new water conditioning system.
Benefits of a Water Softener
Water softeners are probably the most popular water conditioners we install.
Some benefits of water softeners include:
Better tasting water.
Increased life span for plumbing fixtures
Protection for your pipes
Bacteria removal
Reduction of scaling
Elimination of iron, which can cause staining and give water a metallic taste
Reduction of contaminants
Water softeners will help you solve problems like:
White scaling
Cloudy water
Unpleasant water tastes
Hard water
Rotten egg small
Red, orange, or black staining
Water Softeners Can Save You Money
Hard water can make it more difficult for your water heater to work, which will ultimately increase your monthly energy costs. Water softeners will reduce the amount of energy you use in your Tuscon home, which will save you money each month on utility costs.
Hard water will also wreak havoc on your plumbing pipes, so water softeners can save you a significant amount of money on future plumbing repairs. Your plumbing fixtures and other appliances will also have longer lifespans if you have a water softener installed.
If you're looking for water conditioning systems in Corona de Tucson, call Suaharita Plumbing at 520-780-4507, or fill out our online request form.