Your Guaranteed Amado Plumber!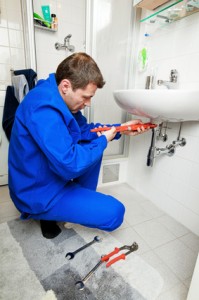 Most plumbing needs are an emergency, and Sahurita Plumbing understands how quickly you want the problem resolved. With over 30 years experience, our Corona de Tucson plumbers understand that while it may be an emergency to you, your plumbing problem is surely NOT new to us and whatever it may be, we have faced it before and know how to fix it immediately.
Response to most plumbing needs is either immediate or that very same day. Frequently, serious leaks and other plumbing emergencies lead to other damage, sometimes electrical, sometimes even structural.
On the occasion your plumbing need is NOT an emergency, our response is nonetheless immediate.

Founded in 1948 in Rehau, Germany, REHAU has emerged as a global leader in polymer processing technologies, providing innovative design solutions and customer support services to automotive, industry, and construction throughout the world. REHAU is providing a range of products for the 2006 NextGen home that includes PEX plumbing, a residential fire protection system, rain gutters, and windows and doors.. Their cross-linked polyethylene (PEXa) pipe and field-proven, nickel-plated brass fittings deliver an economical, corrosion-resistant plumbing system for today's homes. With a streamlined design that reduces installation costs, REHAU's residential fire protection system integrates sprinklers with the plumbing system's cold water line to promote safety and reliability.
The Services We Provide in Amado
Kitchen and bathroom remodeling
Re-piping kitchens and bathrooms
Dishwasher installations
Water Softener Installation
Toilet repairs or replacement
Violations corrected and removed
Gas lines installed for outdoor grill
Garbage Disposal Installation or replacement
Faucet repair or replacement
Hot water tank repair
Hot water tank replacement or upgrade
Leaks repaired
Water line replacement
Gas lines for fireplaces
Sump pumps installed
Sewer line replacement
Water Mains repair or replacement
Drain cleaning
Plumbing gas leaks repaired

…AND MUCH MORE!
We Proudly Serve These Towns Near Amado:
Amado, AZ
|
Corona de Tucson, AZ
|
Drexel Heights, AZ
|
Elephant Head, AZ
|
Green Valley, AZ
|
Littletown, AZ
|
Sahuarita, AZ
|
South Corona de Tucson, AZ
If you are looking for a plumber in Amado, AZ area please call us today at (520)780-4507 or complete our online request form.