WATER HEATERS in Sahuarita and Green Valley area
Almost all components on a water heater can be fixed or replaced except for the tank. Once the tank rusts through, there is no way to repair it, replacement is the only solution. We service all residential water heater problems in the Corona de Tucson, AZ and Green Valley Area.
What You Should Know About Water Heater Installation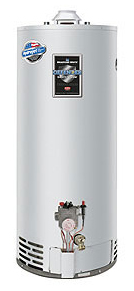 Sahuarita Plumbing provides water heaters made for professionals and we install them the right way. Improperly installed water heaters can cause serious injuries. Hot water can permanently scar or kill in seconds. An explosion could destroy your property. This is why all replacement water heaters must have a permit. A typical Water Heater permit in pima county cost $113. If you are replacing your current water heater with the same type of water heater, then Sahuarita Plumbing can provide you with permit for Free. County codes are constantly changing for your protection. We install your water heater to code and for no extra labor charge. We also set up many Green Valley and Sahuarita customers with an annual water heater flush to clear out the sediment that store in your tank so that your water heater stays efficient and lasts longer.
The most common water heater in Green Valley is the 40 gallon natural gas storage tank. We store and Sell Bradford White and Ruud Water Heaters. The following prices include, the tank, parts , most code upgrades, labor, haul-away of your old heater and tax. We are confident that we are offering the best Deal in all of Corona de Tucson.
40 Gallon Natural Gas for Only $725

50 Gallon Natural Gas for Only $785

40 Gallon Electric for Only $665

50 Gallon Electric for Only $685
This price also includes free code upgrade. We would only charge for extra material necessary to bring your water heater installation in Green Valley up to code.
If you would like to purchase your own water heater from Home Depot or Lowe's, we can install your water heater for you. We can even pick up the Water Heater for you if you have no way of getting it yourself.
Our Corona de Tucson Water Heaters Contractor Provides:
Electrical Water Heater Installation
Electric Tankless Water Heater
Electrical Water Heater Replacement
Electrical Water Heater Repair

Residential Electrical Water Heaters
Commercial Electrical Water Heaters
Rinnai Electrical Water Heater
Gas Water Heater

Bradford White Electrical Water Heater
Replace Electrical Water Heater
30 Gallon Electrical Water Heater
Electrical Water Heater Repair
We Provide Water Heaters in the Following Areas:
Corona de Tucson, AZ
|
Casas Adobes, AZ
|
Ajo, AZ
|
Drexel Heights, AZ
|
Corona de Tucson Estates, AZ
|
Catalina, AZ
|
Elephant Head, AZ
|
East Sahuarita, AZ
|
Rio Rico, AZ
|
South Corona de Tucson, AZ
Why Corona de Tucson Should Hire Us For Their Water Heaters
Sahuarita Plumbing is a licensed and insured plumbing service providing quality service to Corona de Tucson, AZ. From plumbing repairs, remodeling, new construction or sewer cleaning, our experienced experts are dedicated to solving your plumbing problems in a timely and affordable manor.
We do quality work and do not believe in cutting corners all while being honest and trustworthy with reasonable rates. Our plumbers are always on time and punctual.
If you are looking for a Water Heater Contractor in Corona de Tucson, AZ, please call us at 520-780-4507 or fill out our online request form.