Category:
Home Tips
Wednesday, February 1, 2012
Why Corona de Tucson Radiant Heat Is For You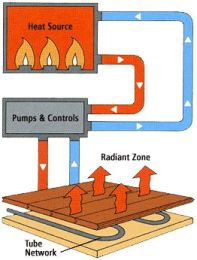 There are two major types of heating available to most houses, forced air . Forced air heating uses a furnace to heat up the air, which is then sent through the house by means of ducts.
Corona de Tucson radiant heating systems work differently. Instead of heating up the air, they employ some sort of device to radiate heat outwards into the air. The most obvious example of this sort of system are the classic on wall radiators.
Downsides To Conventional Heating
As is turns out, both the conventional forced air and on wall heating systems have their downsides. Forced air heating systems rely on an intermittent supply of warm air, from ducts located in certain parts of the room. This can often lead to intermittent, uneven heating. Also, the use of moving air in ducts means that dust is moved around the house, which can aggravate many people's allergies.
On wall radiators have their downsides, too. They don't provide very even heat, because they are located in only one area of the room. They can also be irritatingly loud, particularly when you're trying to go to sleep!
Floor Radiant Heat Is Your Solution
Fortunately, there is another solution. Corona de Tucson in floor radiant heat works somewhat like a radiator, in that it simply radiates the heat into the room rather than directly heating the air. However, instead of having an on wall radiator, radiant floor heating uses heating elements placed within your floor to provide a nice, even heat to the room.
Why Corona de Tucson Radiant Heat Is For You
This type of heating is really quite amazing. There are no visible heating elements in the room, but you will feel a warm, luxurious heat rising up from the floor. There are no cold spots, funny clanks, or allergy causing dust particles. Just pure, simple warmth.
Radiant floor heating is generally executed in one of two ways. The most common system is hydronic radiant floor heating. These systems use a boiler to heat water, which is then pumped through a series of interwoven pipes underneath your floor. The heat radiates upwards from this network of pipes. This is the most efficient form of radiant floor heating.
Electric Radiant Floor Heating
There is also electric radiant floor heating. You can picture this as being like an electric blanket that is installed underneath your floor. Resistive heating elements beneath your floor provide the Corona de Tucson radiant heat. These systems are far less efficient that hydronic systems, but since they don't require a boiler, can be much easier to install in many situations.
This should give you a good, basic overview of in floor Corona de Tucson radiant heat systems, and how they work. If you're building or remodeling your home, be sure to give these systems a look. You'll be glad you did.
Article Source: http://EzineArticles.com/1397340
If you are looking for a plumber in Corona de Tucson, AZ area please call us today at 520.780.4507 or complete our online request form.